Thursday, May 12, 2005
I knew this would happen.
See, I haven't posted in a month because I didn't want to get ahead of myself. I still need to do my vacation write-up and my new car post. Plus, I recently got Forza Motorsport for the XBox and it has consumed my soul. I should post about that.
But I guess I'll never get around to it, so here's the summary: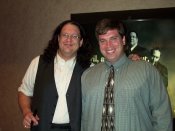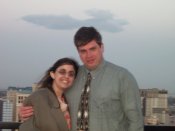 We went to Las Vegas for our fourteenth anniversary. We stayed with Di, Sara, Matt and Julie. They were wonderful hosts, but busy, so we didn't get to spend as much time with them as we'd have liked. I played in a Texas Hold'em tournament; lasted only two hands. We ate well, including the nigh-traditional anniversary dinner at the Voodoo Lounge Cafe atop the Rio which was followed with a viewing of Penn & Teller's show, which rocked, after which I got to share a few words with Mr. Gillette and grab a picture. We met up wtih my cousin, Janet, who was in town for a conference and had dinner in Paris. We rented a Sebring convertible and drove around the desert, including Red Rock, Valley of Fire, and Lake Meade. We took the dam tour at the Hoover Dam. We drove to Los Angeles on our last day to pay short visits to Kieu and Sheryl. On the way, the Sebring broke down. Fortunately, we were near a Hertz location and were back on our way (albeit in a Buick Century, yuck!) in about half an hour. And then we flew back. Flying blows, by the way, particularly if you're of exceptional size. I know everyone bitches about sitting next to the fleshy flier, but trust me, it's much worse to be him.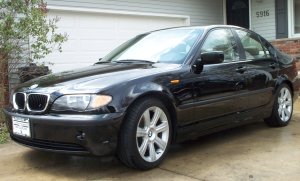 We bought a new(ish) car! After much trial and tribulation, we settled on a car we hadn't even considered. It's a 2002 BMW 325i sedan, black, sandalwood (tan) leatherette (fancy vinyl) interior, manual transmission. It had just over 40,000 miles when we picked it up. I'm paying $100/month less than I did on my Kia. Assuming it holds up for a few years, that's a pretty sweet deal. We'll see how it goes. If I can keep it in good shape, I should break even on the loan in 2.5 - 3 years, so I can trade up to the Z4!
Forza Motorsport owns my soul. I really didn't want to like this game too much. I'm quite the opposite of a Microsoft fanboy, and I'm a long-time Gran Turismo fan. Trouble is, this game rocks. It's not easy, by any stretch of the imagination. It's much more sim than arcade. You have to be very careful with the brakes and gas. The XBox live support is what does it. That and the car customization. So much fun.