Thursday, December 13, 2007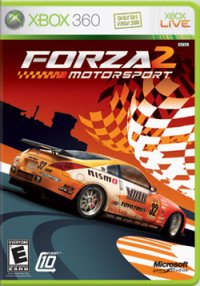 Fig. 1
Forza Motorsport 2
I mentioned way back in 2005 that I was smitten with Forza Motorsport. Well, two and a half years later, I have an Xbox 360 and its successor, Forza Motorsport 2. FM2 is just as much fun as its predecessor, with even more paint customization options and more physics and polygons and shit.
I have a couple of friends on my friends list who, like me, love the racing sims. One of them, we'll call him CBizkit, invited me to join the ARS Technica gaming forum racing league, and eager to test my skills, I joined up.
FM2 has a Performance Indicator system, whereby points are assigned for things like horsepower, weight, braking power, tire grip, and even shift time. For each race in this series, each driver takes a 2002 Lotus Esprit, which has a base PI of 695 and adds modifications to get as close to (or usually on) 850 as possible. You can add handling mods like tires and weight reduction or horsepower mods such as turbochargers and exhaust systems, or in many cases a combination of the two. Then you can adjust the car's transmission and suspension settings to suit the track and your driving style. This leads to quite a varied field of cars on most tracks and a great deal of challenge in finding the best setup for any given race.
Furthermore, being the complete and utter nerd I am, I can't resist creating the occasional writeup on the forum of my goings on, usually in the form of a press release/race report in the style found on my favorite Formula One news sites. Expect crossposts of those, such as the one you're about to read, to become a regular feature of the blog until the season is over.
---
Blob Motorsports marks its debut at Tuesday's ARS Group One race at Maple Valley
"When we started this season," says Blobemetheus, CEO of Blob Motorsports and driver of the currently 5th place #42 Lotus Esprit, "it was just me and a car." He adds with a characteristic grin, "Okay. A couple of cars."
"But, you know, I had to do everything. Line up sponsorships, pack up the gear, haul the cars, drive 'em, tune 'em, replace dozens of snapped carbon fiber wings, deal with suppliers. It was a nightmare. And you can see from our early results that it just wasn't working. I couldn't even line up the car at the season opener in Laguna Seca. That was a real heart breaker. We did all our preseason testing there, and I was feeling pretty good about the car and the track. I think I could have taken it to the big boys, but alas, we'll never know."
Blob, as he likes to be known, then went on to a string of DNFs, including the exhibition race at the Nurburgring and a race at Sebring that had been going well until he ran out of fuel just two laps from the finish.
"Well, I got into a wall early on and needed to pit. Of course, I had to get out of the car myself and bang out the body work. I climbed back in and turned in some decent laps. I thought I was good to go on fuel, but obviously I was wrong."
Blob hopes he's put all that behind him, now. While in Germany, he put in the last few phone calls required for the incorporation of Blob Motorsports.
Fig. 2
Blob Motorsports Decal on the #42 Lotus
"I've got a business manager and a mechanic and a logo now. Man, what a relief to be able to concentrate on what I'm best at: Getting that gorgeous hunk of metal around the circuit as fast as possible."
It seems as though the arrangement has payed dividends immediately. After the action packed and ultimately aborted first start at Maple Valley, he'd secured third place. "And even if Audiocee hadn't gone out, I think I would have caught him after the pit stops," says Blob. "I'd done a little bit of engine damage trying to keep it off the wall while sliding on the grass, but it's nothing we couldn't have cleaned up in the pits."
Blob Motorsports opted for an all-handling configuration at Maple Valley, sacrificing ultimate speed for control and consistency.
"After a few dozen practice laps, I had a real good rhythm going. I was flat for like 90% of the lap. Of course, with all that wing, I didn't get much above 140, but the car was solid and stable. But I knew I was in for a fight on Tuesday because I was still nearly a second off Uni's time. But I figured that if I could just run it clean, I might stay competitive."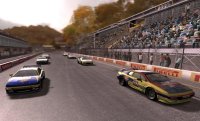 Fig. 3
The grid at the restart
After the restart, clean was the operative word. While there's much speculation and justification around race control's decision to restart with a random starting order, Blobemetheus was happy to retain his second place grid spot.
"It was good. I was running a really tall first gear, so I was very happy I managed keep the revs up without smoking the clutch or the engine at the start. I was able to keep touch with Audiocee, who started first, and when he went wide, I slid past on the way up the hill. After that, it was clear sailing for four laps."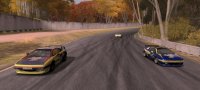 Fig. 4
Blobemetheus taking the lead
On the fifth, though, Blob made his first error and went wide, giving Unimetal and the #007 Lotus an easy pass for the race lead.
"I just missed my apex. I wish I could blame it on something other than driver error, but that's all it was. A momentary lapse of concentration can cost you a lot out there, especially when the other driver's got nine tenths per lap on you. I saw him coming and obviously let it rattle me."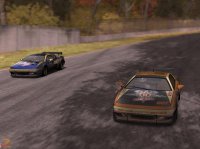 Fig. 5
Final lead change: Unimetal on top
Blob nearly caught Unimetal at the top of the hill on the very next lap, but having to check up to avoid collision, that was the last he'd see of him all day.
"After that, I just fell into my rhythm and did my thing. I think I had one more minor off, but other than that, I was pretty good, even when the tires started to lose grip. Unfortunately, I needed Uni to make a mistake at that point and it seems like he never did. I've gotta give Unimetal and the 007 team their propers. They did their homework and drove a good race."
Still, after a very disappointing start to the season, the second step of the podium must have been a big boost for the young team.
"You bet! While I hope for bigger and better things as the season rolls on, my first podium is very exciting. Thanks go out to the fans and to the guys at Blob Motorsports. Oh, and to CBizkit, for giving up a lot of points and letting me lap him. Twice."
12-13-2007
You're never doing research again, are you?
:)
I'm happy for you, even if I can't understand why anybody would play a racing game that didn't at *least* include traffic, if not pedestrians and cops.
12-13-2007
This has been going on since October! You wouldn't even know if I hadn't said anything.
Seriously. I'm just not sleeping any more. There's simply no time for it.