Tuesday, March 22, 2005
We went to look at a few more vehicles on Monday evening after my drum lesson. (I finally nailed Nothing Else Matters all the way through. Woot!). Ellacott Shaker Volkswagen and Subaru has two vehicles I was interested in.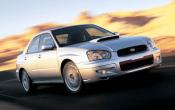 The Subaru WRX is priced a little bit higher than the Scion or the Mazda 3, but it packs a 2.5 liter turbocharged flat four that boasts 227 horsepower and coupled with all-wheel drive, a pretty wise choice for Cleveland winters, it pushes you right back in the seat. This one was a blast to drive. I threw it around a couple of corners as hard as I could (at city driving speeds) and the tires didn't so much as squeak. We were driving a manager's demo model with 4,000 miles and a little bit of body damage that was priced at around $21,000. In addition to the price, there were a few other drawbacks. Interior room. Ingress/egress is troublesome for me and while inside, the shoulder room is very tight. There's no moonroof. This may sound like an idiotic objection, and it is, but dammit, I started out looking for a convertible. Still, the performance was grin-inducing enough that it's right near the top of the list.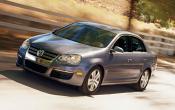 I was also curious about the Volkswagen Jetta. The price:performance ratio is a bit higher than the Subaru's, there's no AWD, and they uglified the car for 2005. And while talking up the Subaru for us, the salesperson wound up talking down the reliability of the Volkswagens, so we opted not to even take one for a spin.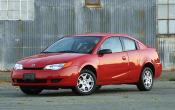 After that, we went over to Saturn of Chagrin. I didn't know much about Saturn's current line-up, so we just went to see if they had anything interesting. We wound up trying the Ion "Quad Coupe", which has a pair of suicide doors that can open only when the primary doors are open. They didn't have a manual shifter handy so we drove the automatic. The performance was bland, at best, and there's no headroom with a moonroof; barely enough without. And this car is priced very similarly to the Scion. Tough choice. Now, apparently there's a supercharged 200-something-ish HP version with a five speed at another dealership that might make the performance more interesting, so I agreed to call 'em on Thursday to take that one for a spin. Oh! And the instrument panel is in the middle of the dash. It's very strange to drive at night and not have the dashboard lights in your face and it's also a bit awkward to look down and right to see the guages.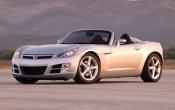 Unfortunately, I don't think I can wait for it, but apparently Saturn has a roadster on the way in 2006. Expected to sell for under $25,000 and with 172hp, it might just be the car for me. The salesperson assured me that there's ample room for the driver, too. Ah well, maybe next time.
After all was said and done, I think the WRX may be in a very close race with the Scion. I really enjoyed the performance and AWD is a nice feature, but the cramped quarters and the price just about offset the advantages. Much pondering ensues.
Comment by KJToo
3-22-2005
Here's where I find out if your comments support HTML tags. Nothing Else Matters? As in, Metallica? Dude.

(HTML breaks, as yesterday I noticed that carriage returns don't translate.)

For sheer power, style, sex appeal and the ultimate joy-of-driving experience, nothing - but nothing - beats the Pontiac Montana. It's the Viper Mark VII of minivans!
Comment by KJToo
3-22-2005
Comment by KJToo
3-22-2005
Did you just add support for "harmless" HTML and line breaks?
If so, I rescind my "Crapx0r!"
Comment by blob
3-22-2005
I did. And if you include no html but CR/LFs, it'll translate them into <br>
Comment by Sarah/Dryad/YouKnowWho
3-22-2005
Hi! Did you know I'm a Girl Who Likes Cars? Most people don't know that. But it's survival in my house. One day I shall tell you car stories. We owned many, many used cars in my life time.
Comment by KJToo
3-22-2005
blob said:
"I did. And if you include no html but CR/LFs, it'll translate them into <br>"
So what all qualifies as "harmless" HTML?
Comment by blob
3-22-2005
I'm not about to arm anyone with information on potential vectors for attacks on this site. If you try something that should work and it doesn't, I'll see if I can make it work safely. :)
I literally typed &lt;br&gt; to get the <br> in there, if that's what you're curious about. :)
Comment by blob
3-22-2005
Sarah!
I think we talked about you being a car person before. What do you think of my choices, here?
Comment by KJToo
3-22-2005
How do you think I got the <br> in there when I quoted you? :-)
Comment by Sarah
3-22-2005
I say shag it all and get a Lotus! Well, in all seriousness, we've had a Subaru and a Saturn and both were in accidents (Subaru had a collision with Bambi and an 18 wheeler bumped the back of the Saturn at a toll booth). Subaru was a fairly new brand at the time when we had it. It was horrible on hills and mountains. But my dad did fine in the crash. Dad, also in the Saturn, was fine, but the car was not. I would recommend something with 4X or All wheel considering where you live. Oh, yes. I'm against VWs, so don't ask me about them. Or, really, all German cars. (Why do Beemers have to be German?)